89
Skydive For SkyAngels Air Ambulance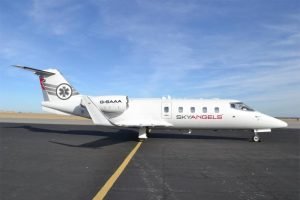 SkyAngels Air Ambulance is the United Kingdom's first and only national jet equipped charity. Our air ambulance jet will enable the NHS patient transfer system in 2019/20 to quickly, efficiently and safely transfer patients, medical teams and emergency medical cargo by air, saving time and lives. 
From our airbase at Birmingham Airport [BHX] we can reach 95% of all UK cities in under 11 minutes…We are planning to fly into four to five UK cities per day once fully operational. Turning hours by road ambulance into minutes by air! 
Presently we operate via an ad-hoc arrangement with other commercial operators but we would prefer to purchase and operate these aircraft ourselves with our own Aircraft Operating Certificate [ AOC ]. We're currently planning for our first aircraft purchase in 2020, subject to funding.
Cost of operations including the aircraft will reach between £1 and £2 million per year within the next few years. We receive no Government support and no lottery monies.
The range of our air ambulance aircraft also enables us to offer international repatriations of British Citizens in need. 
With your help, our planned fleet requirements for the UK include 3 of these unique medical jets within the next seven years. Currently, every European country has this fixed-winged option for their public services, including jet and turboprop aircraft. SkyAngels believes that it is time for the United Kingdom not only to catch up but look to the future with larger, faster air ambulance jet aircraft.
Flying on behalf of the general public and supporting the NHS, it's a SkyAngels thing…
Polo
SkyAngels AirBoss
Deposit required from the skydiver £70 to book your tandem jump. Minimum requirement to raise is £350.