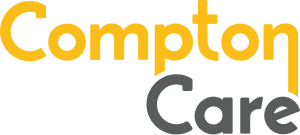 At Compton Care, we believe that life with a complex and incurable illness doesn't have to be limiting. We believe people are more than their diagnosis, and we are passionate about helping people to live the best life possible. We work with our patients to inspire, support and encourage them to take charge of their lives – because being alive isn't the same as feeling alive.
Our support also extends to our patients' families. Our bereavement services are available to close family, friends and carers of loved ones supported by Compton Care and we're also able to provide a specialist support to children and young people between the ages of 5 and 17.
This extraordinary care is available free of charge to people throughout our local communities thanks to the generosity and support of the public. It costs over £7.9million to provide that care, so we rely on the support of individuals, communities, companies, groups and trusts to fund that care.
Your donations and support ensure that Compton Care continues to make a big impact. We simply couldn't provide our extraordinary care without incredible people like you. Every penny you raise by taking part in a Skydive for us makes a huge difference.
A minimum of £395 to be raised. £70 deposit to reserve your skydive.
EMail vickiwootton@comptoncare.org.uk for more information.
Registered Charity Number: 512387